Brief introduction
Biomass gasification generating electricity system is a new energy equipment developed recent years. At present ,scope of output Biomass-generator supplied are from Minimum 100kw ,200KW 400,600,800, to Maximum 2000KW . Since 2001 ,These biomass genset system has started to export to Malaysia ,Thailand ,Italy etc. countries. .Our manufacturers own our-self mature technologies for these equipment.
The gasifiers with output 200KW and 400kw use fixed bed gasifier. The gasifiers with output 600KW to 2000KW are fluidized bed gasifier.

For example 200kw biomass gasification system and gas engine generator units, we make brief introduction below:
The combustible gas produced through biomass gasification can, as a good fuel, go into the gas engine to generate power. And the gas can also generate electricity directly by employing a modified internal combustion engine. Furthermore, it can be transmitted to the gas turbine to generate electricity immediately.
This product not only can solve the problem of utilizing the sustaining energy source effectively, but also resolve the problem of waste pollution resulted by industry and agriculture, especially in the area with abundant biomass source. A lot of materials such as wood block, rice husk, cornstalk, corncob, beanstalk, corn cub, cotton stack, weed sawdust, paring, haulm etc. can be used.
Dedicated into developing high-efficiency clean energy, we focus our attention on the research of biomass energy, especially the technology of biomass gasification and its application. Many successes have been achieved and our products have been applied widely and have been proved to have magnificent social benefit and to help protect the environment.
Advanced technology, excellent performance and reliable quality make our equipments welcome in China and abroad.
Further information
1 Working flow
A. to turn the biomass of required size into fuel gas through thermal pyrolysis reaction.
B. to remove the ash and to cool the fuel gas through the heat-exchange
C. to purify the fuel gas and to remove the tar and dust, and to separate water from the fuel gas. After clearing, the content of tar and ashes in fuel gas is reduced to below 20 mg/m, which makes the generator run smoothly.
D. to be water sealed in order to prevent fuel gas from reflowing
E. to be stored in gas tank or to be transported to gas engine to gas engine directly for generating electrical power
2 Main components and parts of biomass gasification generating electricity system
The technology of generating is of fixed-bed or fluidized-bed type. The fixed bed gasification generating systems of small-scale mostly adopt internal combustion generating technology. So do some middle-scale generating systems through fluidized-bed gasification. But they can also connect in parallel with generator and match with gasification. In generating electricity system small fixed bed gasification, the gasifier is often designed as down-stream fixed bed running below the atmosphere pressure.
A. Biomass gasifier
Gasifier as producer , is of down-stream fixed bed type, whose throat structure and cyclone- distributing devices are specially designed in order to meet the requirements of different raw materials.
Cleaning system is made up of cyclone, wet sprinkling device and dry filter.
Gas tank, the capacity of gas tank is decided by the power of generating system. The gas tank is not necessary for the small generating system of 30kw power. When power is above 60kw, the gas tank is introduced to ensure the generator run smoothly. In the generating system of 200kw power, fuel gas is transported to the generator directly without the gas tank. If the power is between 160~1200kw, the fluidized bed with internal combustor generator groups, is adopted. The components of the system similar with that of fixed bed. New catalytic reforming device is adopted to remove the tar.
Main parameters of generating system through Biomass Gasification
(Taking the rice husk for example)
Output (kw)

Quantity of gas
(m3/h)

Quantity of materials consumed
(kg/h)

Type of gasifier

Generating efficiency
(%)

Cost
(US$/kwh)

20

105

45

Fixed bed

11

0.047

30

155

70

Fixed bed

12

0.042

60

300

135

Fixed bed

12.5

0.041

100

495

220

Fixed bed

14

0.039

160

785

350

Fixed bed/
fluidized bed

15

0.036

200

980

435

Fixed bed/
fluidized bed

17

0.033

400

1900

845

fluidized bed

19

0.029
Producer of high output could be used for several generator of low rated power synchronous.
B. Gas engine
(Except the additional electric ignition system and air blender, other parts remain almost the same as diesel engine)
Frame
The frame of gas engine is of cast-iron. Considering the gas ignition, gearbox for distributor block is added and placed at the free end, its drive shaft is operated by camshaft.
Piston
In order to assure the combustion chamber space of gas engine under the low compression ratio, the piston head is lowered relevantly.
The first piston ring is chromium plated as to get good durability and non- corrodibility.
Cylinder cover & Intake port
This cylinder cover is of single type, water-cooled. The intake port adopting valve case
system which is the same for air gate of diesel engine is easy to maintain.
All the components of the above valve case system are universal to that of diesel engine.
The relief valve on cylinder cover will be opened automatically when the pressure exceeds 7Mpa, and consequently the pressure in combustion chamber is lowered.
Gas handling system
This gas handling system combines air valve, gas valve, air gas blender, approved system and
admitting pipe. A explosion door is installed at each end of the air intake.
Ignition system
This electrical ignition adopts 12-battery as power supply.
Specification of Gas Engine
Item

Unit

Model

6250M1

B6250ML1

Type

Direct injection,
four stroke,
Water cooled,
electrical ignition

No. of cylinder

6

Diameter of cylinder

mm

250

Stroke

mm

300

Rated power (12 hr rating)

Kw

180

220

Rated speed

rpm

600

750

Heat consumption (12 hr rating)

kj/kw.hr

≤16500

Lube oil consumption (12 hr rating)

g/kw.hr

≤3

Mean piston speed

m/s

6

7.5

Starting method

Compressed air

Pressure of starting

Mpa

2.94~1.96

Net weight

Kg

6400

6500

Outside dimension

Mm

3230 × 1180 × 2100

3900 × 1200 × 2050

Goods: one complete set 200kw producer gas generator consist of each equipment below
1. Gas engine
Model: B6250ML1
2. AC generator
Model: IFC5406-8TA42-Z
3. Control cabinet for gas engine
Model: BKF-WC2-200/400
4. Air bottle
Model: AO3-3
5. Air compressor system
Model: 2ZF-20/3-B
6. Cooling pump system
Model: 06.50.000
7.Biomass Gasifier
Model: TY900
Fluidized Bed Biomass Gasification Set
TY series fluidized bed biomass gasification set (FBG) is a powerful capacity biomass gasification set. It makes use of various solid fuels with lower heat value by the way of high air speed and the technology of gasification in gasifier under controlled condition of oweing oxygen, so that reduction can take place, solid fuels then is transformed into combustible gas such as carbon monoxide, hydrogen methane and so on. After this, the energy conversion from solid to gas is completed. Its gasification intensity of gasifier comes up to 1500kg/m.h, it is 8-10 times as a draftdown fixed bed which has the same section. The wastes amounts of a set can handle per day reaches from several tons to several ten tons, so it is particularly appropriate to such enterprises as rice and wood processing works and so on where there have a lot of wastes.
| | | | | | |
| --- | --- | --- | --- | --- | --- |
| Type of sets | Ty1800 | Ty2500 | Ty3500 | Ty4000 | Ty5000 |
| Output (Mj/h) | 9000 | 12500 | 17500 | 20000 | 24000 |
| Rated flow of gas (Nm3/h) | 1800 | 2500 | 3500 | 4000 | 5000 |
| Heat value of gas (kj/m3) | >5000 | >5000 | >5000 | >5000 | >5000 |
| Efficiency of gasification (%) | >70 | >70 | >70 | >70 | >70 |
| Total content of tar and dust (mg/m3) | <20 | <20 | <20 | <20 | <20 |
| Expenditure of straw (kg/h) | 850 | 1200 | 1650 | 1900 | 2350 |
| Expenditure of electrical power (kw) | 30 | 37 | 45 | 57 | 70 |
100kw COMPLETE BIOMASS GASIFICATION AND GAS ENGINE GENRATOR UNIT INSTALLED IN ITALY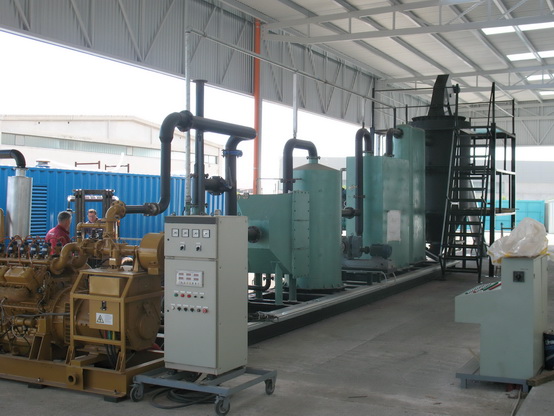 200KW Biomass gasification generating electricity system established in Malaysia in 2001
Air compress system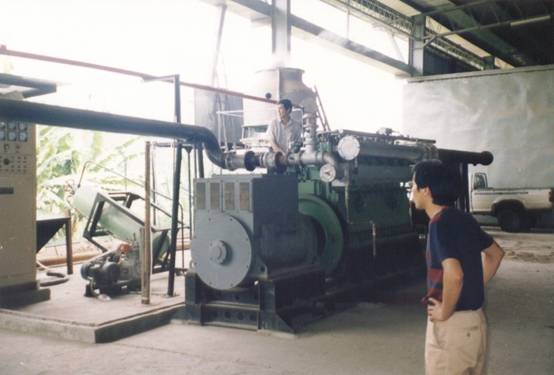 Biomass gasifier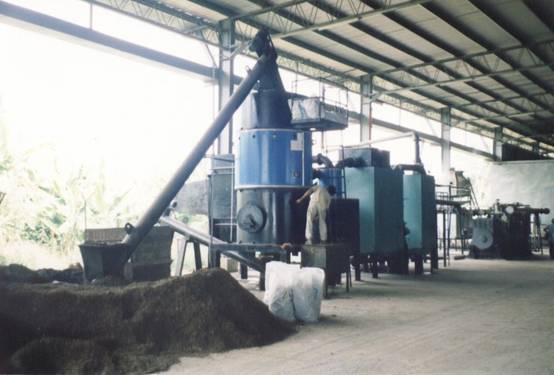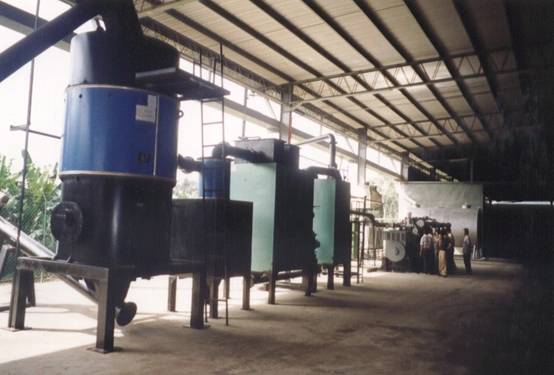 Control cabinet for gas engine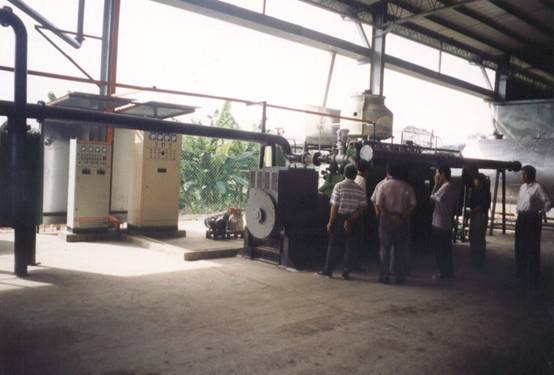 Gas engine